El Dorado Instrumental Music – Band, Color Guard and Drumline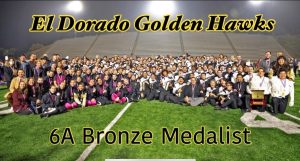 Marching Band:
The El Dorado Marching Band has an over 40-year history of excellence, both on the street and on the field. They have performed in Canada, Florida, Hawaii, and Nevada, as well as at the 2000 Sydney Olympics and the 2005 and 2010 Tournament of Roses Parades. This outstanding organization also performed for President Ronald Reagan and President George Bush.
Color Guard:
The El Dorado Color Guard performs with the marching band in the fall at parades and field tournaments. In the winter and spring, they perform at indoor Winter Guard competitions. This group of young athletes combine the talents of dance, flag, rifle, and saber during their performances.
Concert Bands:
El Dorado has three bands that are active during the winter/spring concert season – the Wind Ensemble, and Symphonic Band, and the Concert Band. All three bands strive towards performance at a Superior level, and the Wind Ensemble has reached that level on a consistent basis. The Wind Ensemble is also a four-time participant in the Orange County invitational for wind ensembles at the OC Performing Arts Center.
Jazz Bands:
El Dorado's three Jazz Bands are known for their high level of musicianship and their straight-ahead jazz style. The bands have consistently received top honors in local and regional jazz competitions.
Winter Drumline:
El Dorado's drumline is a relatively new program having been assembled within the last decade. This group, consisting of battery and front ensemble and visual performers, performs at SCPA and WGI competitions throughout Southern California. EDHS Drumline recently took first place in 2109 at the WGI West Power Regional.