Eric Samson – Music Director
Band Office: 714-986-7588
Contact:  esamson@pylusd.org
Eric Samson is Director of Instrumental Music at El Dorado High School.  He previously served three years as Assistant Director and prior to that as percussion instructor and writer. His present duties include Marching Band, Wind Ensemble, Symphonic and Concert Band, Percussion Ensemble and Jazz Band.  In 2003, Eric was a participant of the Henry Mancini Institute (HMI) and performed with the HMI Orchestra until operations ceased in 2006.  While performing with HMI, he had the opportunity to share the stage with artists such as Quincy Jones, Tony Bennett, Stevie Wonder, Michael Buble and Bill Cunliffe.  Eric continues to be in demand as a freelance percussionist, percussion arranger, and performs regularly with his own Latin jazz band, Indigenous Soul.
Assistant Director – Tim Vrooman
Contact:  tvrooman@pylusd.org
Tim Vrooman is the Assistant Director at El Dorado High School.  He has served as a Brass and Visual instructor for various schools across Southern California.  His present duties include Marching Band, Symphonic Band, Advanced Band, Chamber Ensembles, and Brass Instruction.  While attending CSUF for his undergrad in Music Education, Tim performed on tuba with various groups and ensembles such as Pacific Crest Drum and Bugle Corps, Irvine Valley Symphony, and brass ensembles.  While teaching at El Dorado is his priority, Tim also continues to perform with the Tuba Ensemble, 8 Below.
Color Guard Director – Angela Tousley
Contact:  colorguard@eldoradoband.com
CSUF Student Teacher – Aaron Moreno
Band and Color Guard Assistants
Darren VanPerpoel
Marching Percussion Caption Head, Battery Arranger
Darren VanDerpoel resides in Diamond Bar, CA and works throughout Southern California as a music educator. After graduating from Vista HS in 2005, he went on to perform with Esperanza Drum and Bugle Corps, Pacific Crest Drum and Bugle Corps, Black Knights Indoor Percussion, Riverside Community College Marching Band, and RCC Indoor.   —  Darren earned his Bachelor's Degree in Marketing Management from Cal Poly Pomona in 2013.  He currently serves as the co-director and performing member of Sidle Entertainment, who provide performing ensembles for special events and sports teams, such as Los Angles Clippers and the Los Angeles Chargers.  —  Darren has been an active percussion instructor in Southern California since 2005, working with several high schools and independent groups.  In addition to El Dorado, he is the Caption Head Battery Arranger for the Mandarins Drum and Bugle Corps and the Battery Arranger for Dark Sky Percussion. He also currently teaches at Diamond Bar HS, Nogales HS, and Ayala HS.  Darren proudly uses Remo Drumheads and Innovative Percussion Sticks and Mallets.
Matt Lackey
Visual Instructor
Matt Lackey is a media producer and performing arts educator with a passion for non-profits. He joined Pulse Percussion's Board of Directors in 2012 and has served as the Executive Director since 2013. Since 2003 Matt has been a visual instructor for numerous award winning programs including South Hills High School, Savanna High School, Esperanza High School, Etiwanda High School, El Dorado High School and Pacific Crest Drum and Bugle Corps. — Matt is the Digital Media & Video Production Manager for the St. Baldrick's Foundation, a volunteer-powered charity committed to funding the most promising research to find cures for childhood cancers. — He earned his Bachelor of Arts in Business Administration from California State University, San Bernardino and lives with his wonderful wife Angela in San Dimas, CA.
Anthony Gilleland
Front Ensemble Instructor
Anthony Gilleland is currently pursuing his Bachelors Degree in percussion performance at Cal State, Fullerton under the instruction of Ken McGrath. His passion for performing began in seventh grade and has blossomed since then.  He currently teaches at multiple high schools around Orange County along with private lessons and arranges music for front ensembles.
Zakk Hollander
Battery Tech
Zakk Hollander currently resides in Laguna Hills, CA and teaches percussion throughout Southern California. He graduated from Mission Viejo High School in 2012 and then marched at The RCC Fall Marching Tigers, The Academy, Blue Knights, Blue Devils, Orange County Independent Percussion, Pulse Percussion, and RCC Indoor.  — Zakk has been teaching both scholastically as well as privately in Southern California since he graduated High School. He currently teaches The Mandarins Drum and Bugle Corps, Dark Sky Percussion, Diamond Bar HS, El Dorado, Fountain Valley, HS and Mission Viejo HS. Zakk is also pursuing his Bachelor's Degree in Communications at Cal State Fullerton.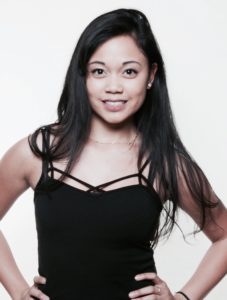 Brianne Risa Tomas
Color Guard
Brianne Risa Tomas recently moved to Southern California from Las Vegas, NV. She earned her Bachelor of Arts in Sociology with a minor in Dance from the University of Las Vegas, NV.  After graduating from Sierra Vista HS in Las Vegas, she continued performing through the drum corps activity. She has performed with Pacific Crest Drum & Bugle Corps (2010-2011), the Santa Clara Vanguard (2012) and the Santa Clara Vanguard Winterguard (2013-2016).  She began her teaching career with various high schools around the Las Vegas Valley and is presently on staff at Las Vegas' premiere Open Class Winterguard 702 Independent. She also currently teaches at Aliso Niguel HS, Capistrano Valley HS and Rowland Heights HS. During the summer, Brianne is also on staff at Pacific Crest Drum & Bugle Corps (2014-2017) and Vanguard Cadets (2016-2017).
*Front Ensemble Instructor: Sean Gordon
*Battery Tech: Esteban Guillen
*Visual Instructor: Chris Cowling
*Field Show Music: Jim Wunderlich
*Drill Design: Steven Etudillo
*Color Guard: Jen Guldner
*Color Guard: McKenna Switzer